Helen the Amazing Kitty - Rest in Peace
by Pete Markham




Those of you who follow my photostream know that I'm a sucker
for animals with special needs. I'm sad to report that my special
needs kitty, Helen the Amazing Kitty, died on May 7, 2011 of cardiac
arrest brought on by severe anemia. She will be greatly missed.
Rest well little "Squeakers".

We found Helen at the end of August, 2009. She was a feral cat in
our town and had managed to survive two months on her own even
though she was completely blind. For some reason, this kitty lacked
any eyeballs at all, but that didn't stop her from living life to the fullest!
She was affectionate, smart, adventurous, and....AMAZING! We could
all learn a lot about how to live our lives by watching this little cat.

In August of 2010, my ex-wife moved to Texas and little Helen accompanied
her on the trip. We were both worried about how she would do on the better than most humans would do with that big of a change. Sadly,
after less than a year in her new home, she got sick and her life ended
maddenlngly early. It breaks my heart to know she's gone. She was so
tenacious. Out of all of my animals, I thought for sure she would live a long,
happy life because she never let anything stop her.

You can see the rest of the photos of this amazing little cat by following
this URL:

http://www.flickr.com/photos/pmarkham/sets/72157622470505575/with/3888111408/

Be sure to read the descriptions as each will share a piece of this
amazing little cat's life.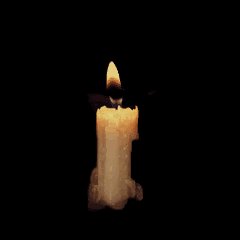 Light a Candle
for Helen
CLICK HERE FOR THE ORIGINAL SOURCE
BACK TO OUR CATS' MEMORIAL PAGE