IN LOVING MEMORY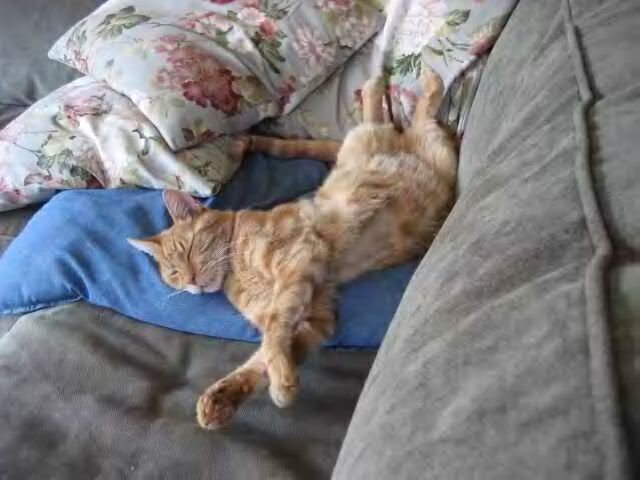 OF CHINO
(07-13-2009)

R.I.P.


click on thumbnails for larger view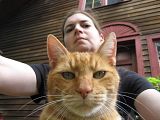 We lost one of our cats tonight...a very sudden,unexpected death.
The orange short hair cat, an American short hair with the classic bullseye
pattern on his side. He had a million names, but mostly known as Chino or
Red or Red Fox or Mr Fox or sometimes Wheenie or Wheeno. He was about 11
years old. He was a great cat...he didn't have a mean bone in his body, but
he was at the same time a fierce hunter. He never fought with other cats,
he loved the dogs, he was a home body type, he loved Mattie and always slept
with her and had to be physically touching her. He was always up to something,
lately he was on a rabbit killing spree. He even caught a mouse this morning.
He always greeted us when we pulled up in the car in the driveway.


He was perfectly fine tonight, he was on the deck with us, following us around,
sitting on the stone wall being his usual self. Even the red-wing black birds
were dive bombing him to chase him away. He stayed outside as the sun went down,
then at about 9:30pm, we heard him wailing unusually loud on the deck. He was
trying to get in the door, but his back legs were paralyzed and he was struggling
to breath. We rushed him over to the emergency vet in Kingston, he was wailing and
struggling the whole way. They knew instantly, as we suspected, that it was over
for him. I guess they are pre-disposed to a heart condition...the heart starts
to fail, and then kicks out a clot that clogs the the main artery that feeds the
back end, and it paralyzes their hind quarters. There was no recovery plan for that
and he was in agony, so they sedated him to calm him down, and then put him to sleep.
And that was that, he was gone by 10:30pm. He's off to another world now. We have
him here "laying in state" in his little coffin, we'll take him up to the private pet
crematory north of Hudson tomorrow to have him cremated (where we bring all of our
pets -Dave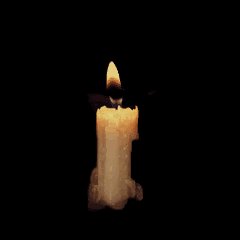 Light a Candle
for Chino
Simon's Memorial Page
---
previous page